William de Ferrers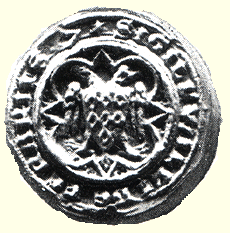 William fought at the Battle of Falkirk, 1298, and was present at the Siege of Caerlaverock, 1300. He was also at the Battle of Boroughbridge, on the side of the king, in 1322.
He died in 1325.
William appears in the following rolls in the database:
The Falkirk Roll, H61; the Caerlaverock Poem, K75; and The Galloway Roll, GA209.
In these rolls he bears
Gules seven mascles conjoined or

These were also the arms of Quincy, Earl of Winchester.