Thomas de Furnivall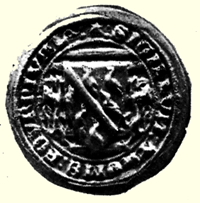 Thomas fought in the Scottish wars, and was present at Falkirk, Caerlaverock and Galloway. He died in 1332.
He appears in the following rolls, The Falkirk Roll, H70; The Caerlaverock Poem,K59; Glover's Roll, B147; Walford's Roll, C81; & The Galloway Roll, GA131, in which he bears
Argent a bend between six martlets gules

Gerard de Furnival, his great grandfather who died 1241, in Walford's Roll, B149 & St George's Roll, E210, bears the same arms.
William de Furnivall, in Glover's Roll, B148, bears
Argent a bend between six martlets gules a label azure

Thomas de Furnival, in St George's Roll, E208, bears
Or a bend between six martlets gules