Ralph de Monthermer,
Earl of Gloucester & of Hertford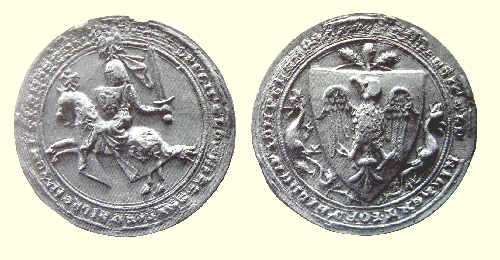 Ralph's parentage is unknown.
He was a member of the household of Gilbert de Clare, who died in 1295. His widow, Joan of Acre, daughter of Edward I, was married to Ralph in 1297, without Edward's knowledge. For this breach he was briefly imprisoned until he did homage to the king.
He became Earl of Gloucester and of Hertford in her right, but on his wife's the death he lost the title.

He took part in the Scottish campaigns and was at the Battle of Falkirk and the siege of Caerlaverock.

In 1313 Ralph married, again in secret, Joanne, the widow of John de Hastings, and sister of Aymer de Valence, Earl of Pembroke.
He was taken prisoner at Bannockburn in 1314.
During the reign of Edward II, he did not receive the favours accorded to him previously. He died in about 1325.
Ralph appears in the following rolls in the database: The Falkirk Roll, H98; The Caerlaverock Poem, K77; The Galloway Roll, GA219; The Stirling Roll, ST16.
In these rolls he bears
Or an eagle displayed vert