Ralph de Grendon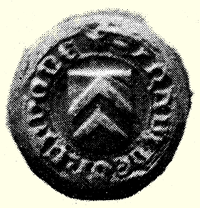 Ralph took part in the wars against the Scots, and fought at the Battle of Falkirk, 1298.
He was one of those pardoned for his rôle in the death of Gaveston.
He was probably present at the Battle of Boroughbridge, 1322, and died in 1332.
Ralph appears in the Falkirk Roll, H112,
where he bears
Argent two chevronels gules

Robert de Grendon bears the same arms in the Stirling Roll, ST19, and St George's Roll, E368.
Another Robert de Grendon in the Galloway Roll, GA223, bears
Argent two chevronels gules a label vairy argent and sable