John de Greystock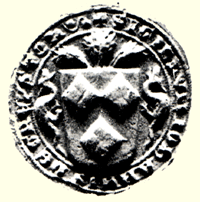 John served in the wars against the Scots and the Welsh, and probably in Flanders. He died in about 1306.
John does not appear in any of the rolls published so far, but
William de Greystoke appears in St George's Roll, E124, where he bears
Gules three cushions argent

The seal shows three lozenges, but it is possible that they or the cushions could be an error.
They are similar in appearance, and there are no other examples of cushions so far.