John de Hastings
Lord of Bergavenny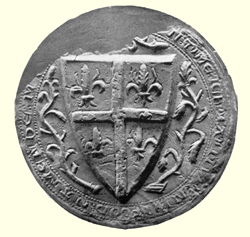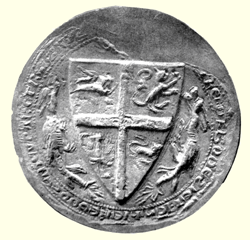 Seal. A cross semy de lis and cantonned by four fleurs de lis
Counter Seal. A cross semy de lis between first and fourth a lion passant and second and third a lion rampant.
The counter seal appears to be reversed, and may have been made in a hurry. The impressions of both are blurred and impossible to decipher.

John was the eldest son of Henry de Hastings, who died in 1268. he inherited the Barony of Bergavenny from his uncle, George de Canteloupe.

He was a competitor for the Scottish crown, 1291, and sealed the agreement to accept the ruling of Edward I with a maunch. The reasons for his use of the seal above are unknown, but it is thought that it have been a reminder that he might once again be a competitor.

He commanded the Bishop of Durham's forces at Caerlaverock, 1300
Died 1313; succeeded by his son, also John.
John de Hastings appears in the following rolls in the database:
The Caerlaverock Poem, K83; St George's Roll, E119; and The Galloway Roll, GA233.
In these rolls John bears
Or a maunch gules

These were the traditional arms of the family.