Humfrey de Bohun,
Earl of Hereford & of Essex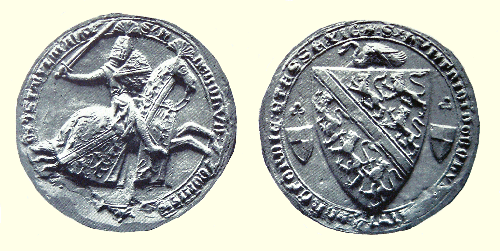 The counter seal shows the shield supended from the swan which was the badge of the Bohun family. The smaller shields bear the arms of Mandeville, Earls of Essex, beneath a trefoil slipped.
Humfrey was the brother in law of Ralph de Monthermer; his wife, Eleanor was the eighth daughter of Edward I. He was also cousin to Thomas of Lancaster, with whom he allied himself for most of his life.
In 1298, he fought at the Battle of Falkirk with his father, also Humfery, who died shortly afterwards.
He formed part of the conspiracy to have Gaveston killed in 1310, but was later pardoned.
Humfrey was taken prisoner at Bannockburn in 1314, but later exchanged for the wife of Robert Bruce, who had been imprisoned in England since 1306.
After conspiring against the Despensers, he was killed at the Battle of Boroughbridge, 1322.
Before his father's death in 1298 Humfrey bore a label.
Bohun appears in the following rolls in the database:
Without the label: The Falkirk Roll, H2; Walford's Roll, C123; St George's Roll, E4; Glover's Roll, B10; The Camden Roll, D10; The Stirling Roll, ST1.
In these rolls Bohun bears
Azure a bend argent cotised between six lions rampant or

With the label: The FalkirkRoll, H4; The Caerlaverock Poem, K14, Glover's Roll, B188.
In some cases the label was borne by Humfrey, and in others by his son, John.
In these rolls Bohun bears
Azure a bend argent cotised between six lions rampant or a label gules