Walter de Huntercombe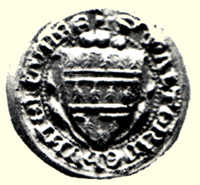 Fought in the wars against the Welsh and in Gascony.
He was present at the Battle of Falkirk, 1298, The Siege of Caerlaverock, 1300, and at Galloway.
Walter died in 1313.
Walter appears in the The Falkirk Roll, H34; The Caerlaverock Poem, K57 and The Galloway Roll, GA123, where he bears
Ermine two bars gemelles gules

Ralph Huntercombe, appears twice in St George's Roll, at E479 and E481, where he bears the same arms.
An unnamed Huntercombe, in St George's Roll, E603 bears
Ermine two bars gemelles sable