John de Kingeston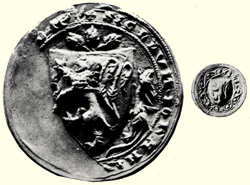 William does not appear in any of the rolls published so far.
He took part in the expedition against Llewellyn. In 1298, he was appointed Constable of Edinburgh Castle.
He fought against the king at the Battle of Boroughbridge, 1322. He is said to have escaped, but nothing is known of afterwards.
The arms on the seal are a lion rampant double queued.