Philip de Kyme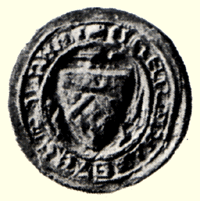 Philip was ward to Hugh Bigod during his minority and married one of his daughters.
He served in the wars against the Welsh, 1277 & 1282. He campaigned in Aquitaine and was present at the siege of Caerlaverock, 1301.
He was probably at the Battle of Boroughbridge, 1322, fighting against the Earl of Lancaster, and died in the same year.
Philip appears in the following rolls The Caerlaverock Poem, K5 & St George's Roll, E374, where he bears
Gules semy of crosses crosslet a chevron or

There is an earlier William de Kyme, who died in 1259, who, in Glover's Roll, B27, bears

Or a chevron gules a bordure sable