Thomas, Earl of Lancaster & of Leicester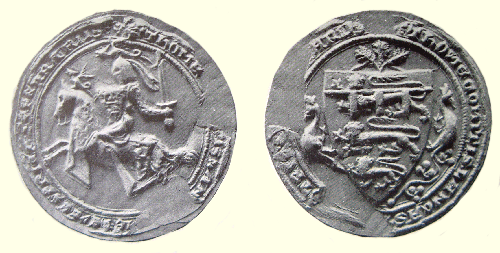 The beasts shown on the seals are wyverns
Son of Edmund Crouchback, Earl of Leicester, who was himself the second son of Henry III of England, and Blanche, daughter of Robert, Comte d'Artois, the third son of Louis VIII of France.
Thomas fought with Edward I in Scotland, and was present at Falkirk and Caerlaverock.
During the reign of Edward II he was part of the plot to remove Piers Gaveston, who was executed on Lancaster's lands in 1312. He never regained the confidence of the king, but was given pardons over the course of some years.
He later fought against Hugh Despenser, who had taken over from Gaveston as the king's favourite, and was captured at Boroughbridge. He was taken to Pontefract and beheaded there in April 1321.
He was succeeded by his brother Henry as 2nd Earl of Lancaster.
Thomas appears in the following rolls in the database: The Falkirk Roll, H51; The Caerlaverock Poem, K73; The Galloway Roll, GA202.
In these rolls he bears
Gules three lions passant gardant in pale or a label azure semy de lis of the second