William le Latimer of Corby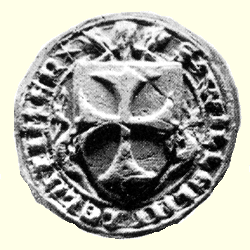 Sided with Henry III against the barons, and went on crusade with Prince Edward in 1270.
He served in Wales, Flanders and Aquitaine.
Fought at the Battle of Falkirk, 1298, with his son, also William, and was at Caerlaverock, 1300.
He died in 1304.
William de Latimer appears in the following rolls in the database:
The Falkirk Roll, H64; the Caerlaverock Poem, K70; St George's Roll, E158; and The Galloway Roll, GA176.
In these rolls William bears
Gules a cross patonce or

However, this blazon is inaccurate. The arms above are taken from my database, No252. I have placed a note to say that at this period, no distinction was made between a cross paty and a cross patonce. Later research, especially in the Wijnbergen Roll showed this not to be so. The arms should bear a cross paty, as depicted below, and on the seal at the top of the page.
Gules a cross paty or