Peter de Mauley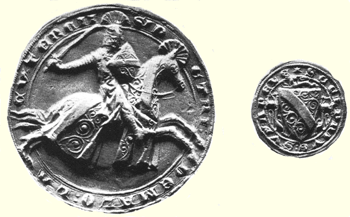 Peter de Mauley was the fourth of his line to be called by this name.
He served in the Welsh campaigns, and fought at the Battle of Falkirk, 1298.
He died in 1308.
Peter appears in The Falkirk Roll, H26, and in The Stirling Roll, ST92, where he bears
Or a bend sable

This coat, which appears to be that of Fossard, would have been inherited from his mother in law. There is no explanation for the change from the arms of his father, below.
His father, also Peter, died 1279, appears in Glover's Roll, B124 and in St George's Roll, E115, where he bears
Vair a maunch gules

Edmund de Mauley, died 1314, bears in The Stirling Roll, ST93
Or on a bend sable three wyverns argent

and also in the Stirling Roll, ST95, John de Mauley, died 1331, bears,
Or on a bend sable three dolphins argent