John de Mohun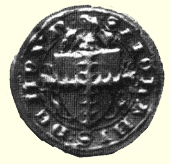 John fought at the Battle of Falkirk, 1298, and was present at the siege of Caerlaverock, 1300.
He was pardoned for his rôle in the death of Gaveston, 1313.
John's eldest son, also John, fought at the Battle of Boroughbridge, 1322.
He died in 1330
John appears in The Falkirk Roll, H113 & The Caerlaverock Poem, K25, where he bears
Or a cross engrailed sable

The seal shows a cross engrailed; my illustration has the cross indented. At this period, the difference was not significant.
John was the grandson of Reynold de Mohun, died 1258, who appears in Glover's Roll, B62, where he bears
Gules a maunch ermine

William de Mohun, died in 1282, bears, in St George's Roll, E156
Gules a maunch ermine a label azure

William was presumably the son of Reynold, although John's father was another John, who died in 1279..
I do not know when or why the arms were changed.