Simon de Montagu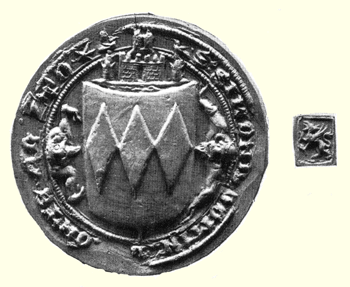 Simon, first baron Montacute, served in the first Welsh expedition against Llewellyn in 1277. Later he is said to have raised the siege of Bordeaux in 1296. He fought at the Battle of Falkirk in 1298, and was present at the Siege of Caerlaverock, 1301.
He died in 1316, and was succeeded by his son, also William, second baron Montacute, who died in 1319.
He in his turn was succeeded by another William, third baron Montacute, below, who became Earl of Salisbury in 1338.
Simon appears in The Falkirk Roll, H94, where he bears
Quarterly first and fourth argent three fusils conjoined gules second and third azure a griffin segreant or

and in The Caerlaverock Poem, K65, and The Camden Roll, D269, where he bears
Azure a griffin segreant or

William Montagu, Earl of Salisbury, in Glover's Roll, B44, bears the arms as on the seal above
Argent three fusils in fess conjoined gules

William also appears in Vermandois, VE969, where the fusils are voided.
The griffin seems to have appeared on the early arms of the family. It may be significant that the name of the founder of the family was a norman knight, Drago.