Roger de Mortimer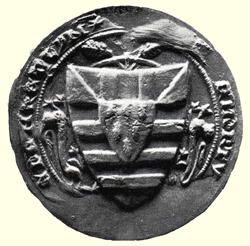 Three bars and a false escochon ermine on a chief a palet (usually paly) between two esquires
See below for the more usual blazon
After having taken part in the campaigns against Welsh, Roger fought at the Battle of Falkirk, 1298, and was present at the siege of Caerlaverock, 1300, and probably at Bannockburn, 1314.
He took the side of Lancaster at the Battle of Boroughbridge, 1322, and was imprisoned in the Tower until his death in 1326.
Roger appears in The Falkirk Roll, H69; The Caerlaverock Poem, K72; St George's Roll, E21; The Galloway Roll, GA186 and The Stirling Roll, ST25, where he bears:
Barry of six a chief paly the corners gironny or and azure overall an escutcheon ermine

Roger de Mortimer, died 1282, appears in Glover's Roll, B32; Walford's Roll, C102; The Camden Roll, D 111 and St George's Roll, E22, where he bears:
Barry of six or and azure a chief of the first two pallets and two girons of the second an escutcheon argent

I have changed the blazon here. The coat is notoriously difficult, and there is little agreement as to the correct blazon.
The following three shields are those of William, died 1297, in St George's Roll, E38, differenced with a bend; Geoffrey in St George's Roll, E40, with a saltire, and John, died 1315, in The Galloway Roll, GA187and The Stirling Roll, ST26, with an escutcheon ermine and a saltire:



The arms of the Pressigny family in France are so similar that it is tempting to believe that there is a relationship with the Mortimer group. The difference in blazon is not significant.
The following are those of Renaud, Josbert, Bouchier and Guy, all from either The Bigot Roll, The Chifflet-Prinet Roll or The Wijnbergen Roll:




In addition, Richard de Boys, died 1302, bears barry of six and a chief paly the corners gironny sable and or an escutcheon ermine in St George's Roll, E213