Roger Bigod ,
5th Earl of Norfolk, Marshall of England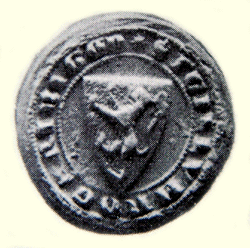 Roger served with Edward I in Wales 1282-3.
In 1297 he refused to accompany the king to Gascony. When the king embarked for Flanders, he and Humfrey de Bohun, with the support of the citizens of London, drew up articles to force the king to renounce the right of taxation without the consent of the people. Prince Edward interceded on their behalf, and the king was forced to agree.
He then served in the Scottish campaigns, and fought at the Battle of Falkirk in 1298.
He married twice, firstly Aliva, daughter of Lord Basset and widow of Hugh Despenser, who was killed at the Battle of Evesham, and secondly Joanne, daughter of John de Avenne, Comte de Bayonne. There were no children from either marriage, and his titles reverted to the crown on his death in 1306.
The third Earl, Hugh, had married Maud, daughter of William Marshall, Earl of Pembroke, which gave the family the title of Marshall of England, and their adoption of the arms of Marshall.
Bigod appears in the following rolls in the database:
The Falkirk Roll, H3; St George's Roll, E18.
In these rolls Bigod bears
Per pale or and vert overall a lion rampant gules

Earlier, these arms had been borne by William Marshall, and were assumed by Roger when he in his turn became Marshall of England.
Glover's Roll, B3; St George's Roll, E23
In these rolls Bigod bears
Or a cross gules

Borne before he became Earl Marshal.