Edmund de Stafford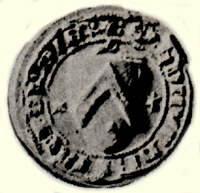 Little is known about Edmund.
He was descended from Hervey de Stafford and Millicent Bagot, and died in 1309.
Edmund does not appear in any of the rolls published so far, but there are
Robert de Stafford, died 1261, in Glover's Roll, B52, and Nicholas de Stafford, in St George's Roll, E55, who both bear
Argent on a chevron gules three besants

Nicholas was the father of Edmund, and was killed in 1287 at the Siege of Droselau.
Another Robert de Stafford, in St George's Roll, E656, bears the arms with a label
Or on a chevron gules three plates a label azure