Almeric de Saint Amand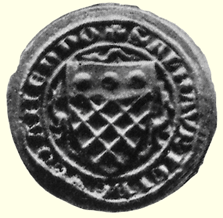 Son of Almeric de Wodehay.
Was present at the siege of Caerlaverock, and died in 1310 without issue.
Almeric, or Amaury, appears in the following rolls:
The Caerlaverock Poem, K 45, The Galloway Roll, GA71 and St George's Roll, E 165
In these rolls, he bears:
Sable fretty or a chief of the field three bezants

However, in Glover's Roll, B 199, he bears:
Argent fretty on a chief sable three bezants

blazoned as
d'argent frette de sable au chief de sable od trois myrrours d'or en le chief.
I have not encountered the use of myrrours, mirrors, in blazon elsewhere.
There is a confusion between the tincures which is unresolved.