John St John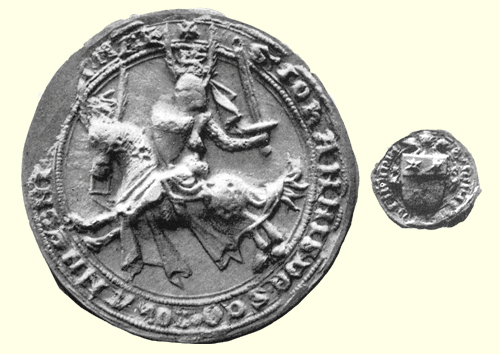 John was the grandson of William de Port, who took the name of his wife, Muriel de St John; his father was Robert.
He served in two invasions of Wales 1277 & 1282, and was with Edward I in Aquitaine 1286-89. He was taken prisoner by the French in 1297.
Later, John was present at Falkirk, Caerlaverock and Stirling, and he also fought in the Galloway campaign.
He died in 1302.
John appears in The Caerlaverock Poem, K67; Glover's Roll B 110; Walford's Roll, C 163; The Camden Roll, D 119; St George's Roll, E 232; The Galloway Roll, GA 166 and The Stirling Roll, ST 28.
In these rolls he bears
Argent on a chief gules two mullets or

His father, Robert, who died in 1269, bears the same in Glover's Roll, B111.
John's son, also John, who died in 1329, was with him at Falkirk and Caerlaverock. In H 106 and K 79 he bears
Argent on a chief gules two mullets or a label azure

Other members of the family also appear in the database.
Richard, d1323, E 46, and Hugh, d1335, GA 24, bear the arms with a field ermine.
Roger, d1314, GA 168, has a crusilly field and another John, d1316, GA 52, a bordure indented sable.