Robert de Tateshale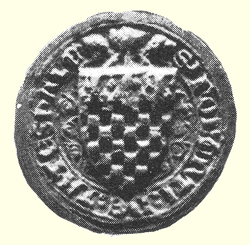 Fought at the Battle of Falkirk, 1298.
He died in 1303, and bore, during his father's lifetime
Checky or and gules a chief ermine a label azure

and appears with these arms in The Falkirk Roll, H14;
In later rolls, the Caerlaverock Poem, K26; The Stirling Roll, ST46; Glover's Roll, B50; Walford's Roll, C99 and St George's Roll, E71, he bears the full arms. He also sealed the Barons' letter with the full arms, below, his father having died in 1298.
His father, also Robert, appears in
The Falkirk Roll, H9
I do not know whether he died at the battle of Falkirk or afterwards.
In this roll he bears
Checky or and gules a chief ermine