Henry de Tyes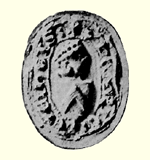 A chevron, ensigned with the badge of a Saracen's head contourned

Little is known about him. He fought in the wars against the Scots, and was present at the Battles of Falkirk, Stirling and Galloway, and at the siege of Caerlaverock.
Henry died in 1307.
His son, also Henry, later fought on the side of the Lancastrians, and was executed after the Battle of Boroughbridge, 1322.
Henry de Tyes appears in the following rolls in the database:
The Falkirk Roll, H20; the Caerlaverock Poem, K69; The Stirling Roll, ST34; and The Galloway Roll, GA199.
In these rolls Henry bears
Argent a chevron gules