On this page you will find all infos about my pas life into the cool Amiga Demo scene (from 1989 till 1995).

- "Les Shadock" (My second group 1993 - 1995)
- "HAWK" (My First group 1989 - 1993)
- My Others demos
- "BodeRunner" (LodeRunner clone)
- Assembler lessons
- Amiga Links


Last update 5 Sep 2004


---

Who are we ?
1993 to 1995 : 'Les Shadock' is (was!) a french AMIGA group composed by some old members of the scene. We all started on A500 around 1987. The official member is :
Oriens (Me) - Coder

Jobo        - Coder

Tebirod     - Musician

Gfx by Ukko, Rahow.
And some few additionnal coding from our friends Kuma and Sharp.
We are all quite now inactive on Amiga. Everyone has started a professionnal life!
For my own part, I'm now a Game developper, for console systems.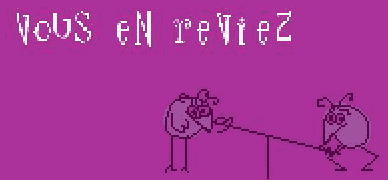 Productions :
"Pourquoi faire simple quand on peut faire compliqué ?" (94)(Download it) 400Ko Dentro. The title means "Why do it simple when you can do it complex". This is the main production of "Les Shadock". It shows the real Shadock Power... ; - ) It features the first Doom-like effect ever made on Amiga with circular walls. The whole thing was only 64Kb (the party release). Final version contains a nicer module from Tebirod ("Dog eat Dog")

oOo

"Party IV Report" (12/94) ( Download Disk1) ( Download Disk2) 2 Disk Demo with lot of scans of photos taken at the Party.

"Slamtilt Hiscores Joiner" (11/96) (Here) 8Ko Utility for joining Slamtilt Hiscores.
"Intro Ga" (12/95) Short 40ko Intro.
Others older productions of Jobo :
---

Who are we ?

1988 to 1990 : 'HAWK' is created from the friendship of two people : ORIENS and JOHNNY-B



* We did together a demo call "Hawk demo". I remember nice long night of coding.
I was still learning code, JohhnyB did graphs and the music (Great work).


"Hawk : First Demo" (88) (Download it) 100Ko Demo featuring the "running man"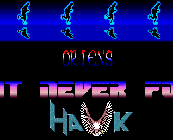 oOo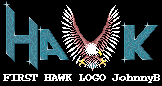 * 1 years after we did something huge for us : A complete mega demo.
"Hawk mega demo" was cool. First part was based on the Terminator intro movie
Second part featured a remix of the Prince "BatDance" and last part had a
Shadow-of-the-beast like scrooling. The musics and graphs were still very good.


" Hawk : Flight over fight" (8/90) (Download it)1 Disk Mega demo. First place at the Cyclone demo compo. It was the first real Party held in France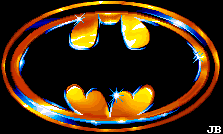 oOo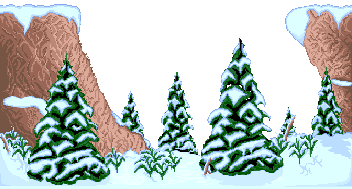 oOo

1990 to 1993 : 'HAWK' became bigger coz I met some nice guys and we decide to create something alltogether
The people who joined us were :
KREATOR as main graphician. He is a good friend of mine, and he did some excellent piece of works
TEBIROD as main musician. Lot of its mods are on the net, listen to them and you will understand why I think he has great music power !!
ACES as graphician. Good graphician comming from Concept with Tebirod.
WILL as graphician. He helped us with some wondeful gfx.
MANHUNTER as coder. He helped me to do the second Hawk mega demo.
ELRIC did all the scans for the "Credits part" in the second megademo.








In 1992, we release the second Hawk Mega-Demo. Great musics of tebirod, great full screen pics by Kreator
The intro was a huge paralax scrolling, the first part introduced for the first time animated full screen copper effects, second part
was classic copper-plasma effect and last part was a kind of movie credits. There is also a secret part somewhere (use the 2 mouse bouttons).

" Hawk : Earth Sorrows (Mega demo II)" (92) (Download it)1 Disk Mega demo.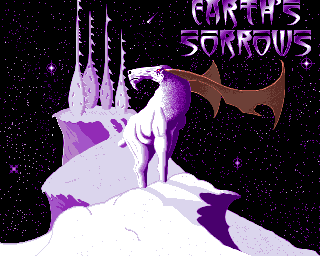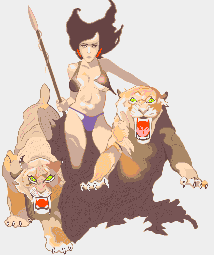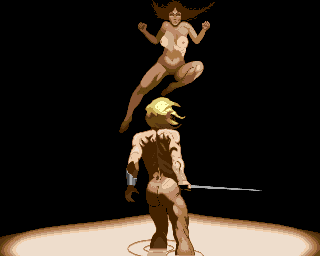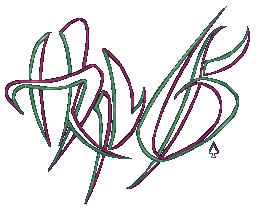 Others Productions :
Oriens & Tebirod : "Melon : Slide show " Fuck demo. Slide show with 2 colors graphs. Just for fun. Not Released.
Oriens : "Bruno Carret Demo" (Download it)1 Disk : Homage to Bruno Carret, a french funny comedian who died that year.

Oriens : " Bidon Design : Haemoroid Target" (Download it) 1 disk. Parody mega demo in the melon design style (try mouse bouttons at start for multiple hiden parts).
Tebirod & Oriens : "Intro for the Concept 3d editor (Eureka)" (Downloat it) 100Ko Intro.

Oriens : "Trainer" for Darkman
Oriens : "Quartix : Trainer" Fake trainer for MegaPhoenix
Oriens : Some intros for Paradox, M.A.D, T.S.F and for my friends Dino and Glg. (Download a Paradox compilation with one of my menu)
If you want some of this demos, then send me an email at the bottom of this page.
You can find some on ftp.amigascne.org

---

BODE RUNNER
The Game
Bode Runner is a game that I have coded. It's a 'Lode Runner ' clone and it's fast because coded in 100% assembler and AGA with 3 different parallax. It's freeware .
VISIT THE
B ODERUNNER
HOMEPAGE
...
---

French Assembler 68000 lessons :

Written by Oriens. Published in the french diskmag AMIGALEMENT VOTRE
---

LINKS :
You'd should go to those nice Amiga related site :
AMP Amiga Music Preservation
---

Back to Christophe's HomePage
If you like to send me some nice words then write to : christophe.kohler _ché_ numericable.fr (replace _ché_ by @)