Some general parameters influencing orchid populations.
Climate and latitude.
France comprises various climatic areas according to latitude, ocean proximity or presence of relief (cf climatic chart). In general, orchid density increases towards the south; factors such as temperature and sun are probably responsible for this gradient. The greatest density is located around the Mediterranean sea with lots of Ophrys such as O. arachnitiformis, O. aurelia, O. bombyliflora, O. catalaunica, O. ciliata, O. drumana, O. incubacea, O. magniflora, O. provincialis, O. tenthredinifera, or such as Orchis olbiensis and Himantoglossum robertianum that even grows close to Lyon. Finally Anacamptis champagneuxii and papilionacea as well as Serapias neglecta and olbia are also to include in the Mediterranean species.

Atlantic Ocean exerts a considerable influence on the French climate and also, consequently, on presence of orchids. If Epipactis phyllanthes and Ophrys santonica and vasconica are regarded as typical species of the warm oceanic climate, a great number of relatively thermophilous species are acclimatized to Atlantic areas as well as to Mediterranean areas. The following species are in this case: Anacamptis coriophora subsp. fragrans, Anacamptis laxiflora, Dactylorhiza elata, Limodorum trabutianum, Neotinea maculata, Ophrys passionis Serapias cordigera, parviflora and lingua.

On the opposite, certain species do not reach the Atlantic side and remain subjugated to continental climate. Among those, are several mountain species accustomed to rigorous winters: Cephalanthera damasonium, longifolia and rubra, Dactylorhiza majalis, ochroleuca, Epipactis atrorubens, leptochila microphylla, muelleri and placentina, Orchis anthropophora, militaris and purpurea, Gymnadenia odoratissima, Ophrys fuciflora and Traunsteinera globosa.

Although it is less rich, North is not deprived of orchids. Several orchids are to be sought such as two subspecies of Dactylorhiza maculata: elodes and ericetorum, as well as Dactylorhiza praetermissa and sphagnicola and, in the littoral dunes, Epipactis neerlandica.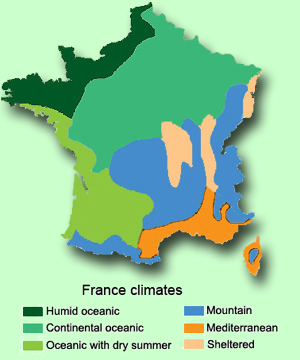 Climates of France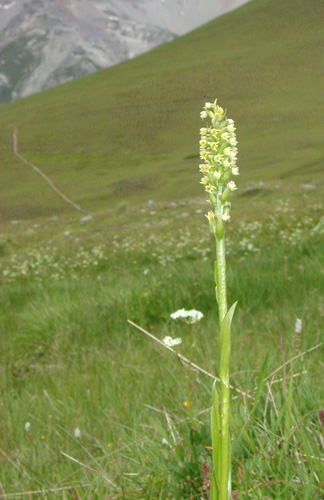 Pseudorchis albida in mountain (04)