The Society of the Fifth Division
U.S.Army


OBJECTS OF THE SOCIETY
The Objects of this Society shall be:


A. To perpetuate and memorialize the valiant acts and patriotic deeds of the Fifth Division; to electrify and unify that invisible current of fellowship, friendship and comradeship moulded in the throes of war and the exigencies of a peacetime service, and promote the interests and welfare of its members.


B. To publish and preserve the history of the accomplishments of the Fifth Division and the Society, in war and peace, and set forth the gallant and heroic deeds of its members.

Copyright: The Society of the Fifth Division, United States Army.
---
If you want to join the Society or for all information regarding it, write to:
National Secretary,
The Society of the Fifth Division, U.S.Army
Warner Smith

National Secretary
Society of the Fifth Division, USA
PO Box 1422
Bridgeview, IL 60455

Phone: 708-839-0608
wiskey sour@hotmail.com
The official site of the 5th Infantry Division
The SOCIETY OF THE FIFTH INFANTRY DIVISION
and The Fifth Infantry Division in all wars and peace.
---
The Society of the Fifth Division publish quarterly a newsletter: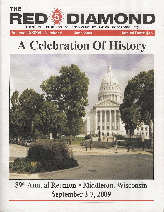 ---
All rights reserved,The Society of the Fifth Division, U.S.Army
Home



Next

Created in May 1997

Updated August 29, 2009 by Yves J. Bellanger