My Cellar
For Android
My Cellar permits to easy manage your cellar on your android mobile.
Features:
- For each bottle that you populate in your database, you can edit the following information:
∑ Color, country, years Ö
∑ Picture
∑ Barcode
∑ Description
∑ Notes
- The country, region and appellation are initialized with the common wine. If you donít found your bottle you can add it and customise the list.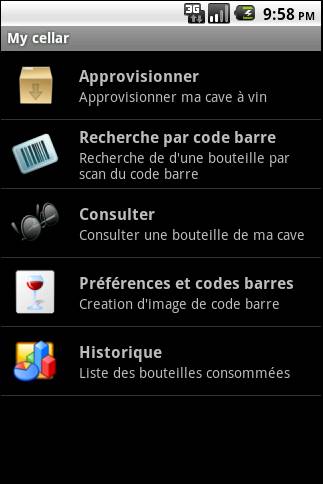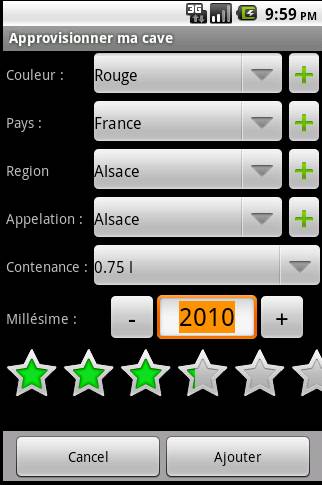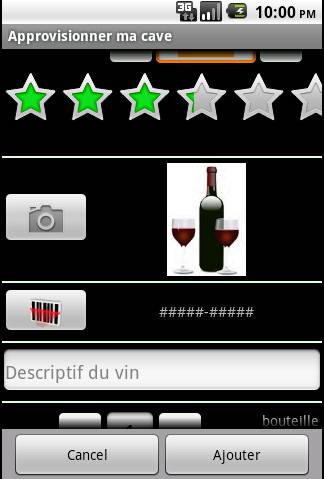 - You can search a bottle in your database by :
o Scan the bottle barcode (1D or 2D)
o Consulting ordering by country, color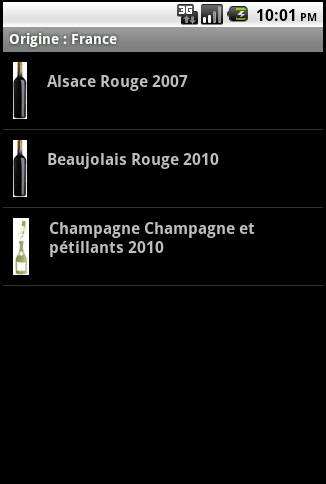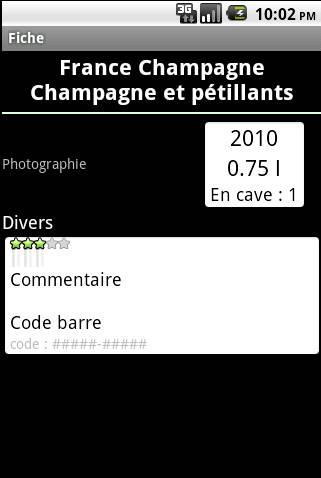 - You can directly consume or edit the description by using the menu in the Wine card. When the all the bottle is consume, the bottle is transfer to the history.
- A 2D barcode generator permits to generate an image and send it by email for printing tag.
About me:
- I am an android developer and wine passionate. This application is firstly for me for having an up to date cellar. If I have this problematic some others peoples have it. That why I share with you this application.
Contact me:
- Email : maillard.benjamin@gmail.com
| | | |
| --- | --- | --- |
| Web Site | Mail me | Android Market |
Other project:
- Photosort:
∑ http://photosort.codeplex.com
∑ http://www.01net.com/telecharger/windows/Multimedia/photo_numerique/fiches/48715.html
@ Copyright 2011 Benjamin Maillard