Thomas de Berkeley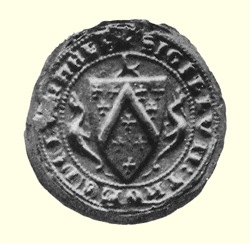 Thomas fought in all the major campaigns of the time, first appearing at the Battle of Evesham in 1265. He was present at the Battle of Falkirk, 1298, and taken prisoner at Bannockburn, 1314.
Thomas died in 1321.
He appears in the following roll:
The Falkirk Roll, H 103
In this roll, he bears:
Gules a chevron semy of crosses paty and a chevron argent

He had three sons, Maurice, Thomas and John.
Maurice, who died in 1326, appears in the Falkirk Roll, H 114; The Caerlaverock Poem, K 88; and the Galloway Roll, GA 249. In these rolls he bore
Gules a chevron semy of crosses paty and a chevron argent a label azure