William de Cantelupe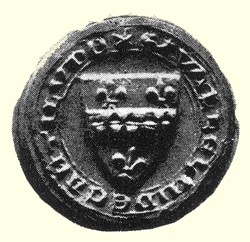 A fess vair between three fleurs de lis
See below for a gloss on the leopard's heads jessant de lis
William fought in Gascony and against the Scots; was present at the Battle of Falkirk, 1298 and the Siege of Caerlaverock, 1300.
He died in 1309.
William appears in the following rolls: The Falkirk Roll, H73; The Caerlaverock Poem, K69, and The Galloway Roll, GA116
In these rolls, he bears:
Gules a fess vair between three leopard's faces jessant de lis or

Robert bears the arms with a fess or in The Galloway Roll, GA19:

John de Cauntelo, died 1287, in The Camden Roll, D66, bears simple arms:
Azure three fleurs de lis or

Another John, who died in 1317, adds in The Falkirk, H39, the peculiar leopard's heads jessant de lis
:

It is thought that the heads first appeared in the arms of Nicholas de Cauntelo, towards the end of the 13th century. These are the arms which I believe give weight to the theory that fleurs de lis in fact represent weapons, perhaps the heads of pikes.
See my article on The Fleur de Lis
George, who died in 1273, has in the fleurs de lis, with the tinctures as in the arms of William: