Brian FitzAlan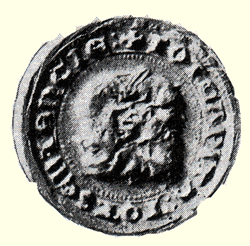 The seal is described as a chimera of four masks, which is not plain in the illustration.
See the bottom of the page for an interpretation
Brian fought at the Battle of Falkirk, 1298, and was present at the siege of Caerlaverock, 1300.
He died in 1302.
Brian appears in The Falkirk Roll, H30;The Caerlaverock Poem, K55; St George's Roll, E190 and The Galloway Roll, GA145, where he bears:
Barry of eight or and gules

His father, also Brian, who died in 1267, bears the same arms in Glover's Roll, B141.
The barry coat varies in the number of divisions, which is not significant.
The Seal
(from Joseph Foster, "Some Feudal Lords & Their Seals", 1903)
"This interesting device seems to represent a Nimrod facing all ways, enclosing various animals of the chace, kaleidoscopically arranged ; in the centre are indications of a monogram.
From three sides of the device as many exquisitely engraved human faces in profile are easily seen, and it is not absolutely impossible to imagine a fourth. Over the head of the first is a rabbit, one of its hind quarters forming a helmet. Turn the seal reversely and the head of the rabbit suggests a mouse; under the man's chin a pig suggests itself. In the centre, letters perhaps forming part of a monogram, may be detected and also a stag or boar's head with horns, &c., &c. The canting legend is considered to be the most curious part of this signet (see The Gentleman's Magazine, April 1812)".