John FitzMarmaduke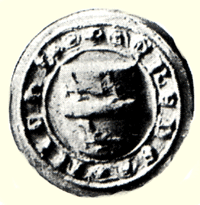 John was the eldest son of Marmaduke FitzGeoffrey. See the note at the foot of the page.
He fought at the Battle of Falkirk, 1298, and was present at the siege of Caerlaverock, 1300. He died in about 1310.
In The Caerlaverock Poem, K87, he bears
Argent a fess gules between three popinjays vert

Marmaduke de Thweng, who died in 1323, bears the same arms in The Falkirk Roll, H37, where he is also known as Johan FitzMarmaduke, Glover's Roll, B133, & Walford's Roll, C103.
John FitzMarmaduke, who also died in 1310, and is possibly the same person as the John above, bears in St George's Roll,E621; The Galloway Roll, GA244 & The Stirling Roll, ST42
Gules a fess between three popinjays argent

Richard FitzMarmaduke, who died in 1318, bears in Glover's Roll, B214
Gules a fess between three popinjays argent overall a bendlet azure

It is difficult to distinguish between members of a family who used fitz, 'son of', in their name. For example, it is possible that successive generations of the same family might have been called, respectively, John FitzWilliam, Herbert FitzJohn and Matthew FitzHerbert.