Fulke, Lord FitzWarin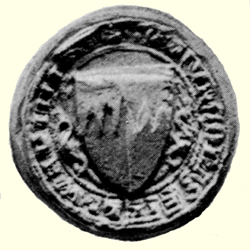 Quarterly per fess indented
Fulke, Lord FitzWarine, served for more than twenty years fighting against the Welsh, from 1277.
He also served in the wars against the Scots.
In 1313, he was pardoned, following his participation in the death of Gaveston.
He died in 1314.
Fulke appears in one roll in the database:
St George's Roll, E69
In this roll he bears
Quarterly per fess indented argent and gules

William FitzWarine, died 1299, in St George's Roll, E252, and Philip FitzWarine, in Walford's Roll, C162, both bear the same arms as Fulke.
Another Fulke FitzWarine, who died in 1264, bears the same arms with different tinctures in Glover's Roll, B184
Quarterly per fess indented or and gules