Edmund de Hastings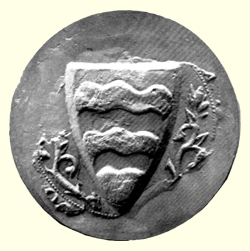 Edmund de Hastings was the brother of John and son of Henry de Hastings. In 1293, to Isabella, the widow of William Comyn and daughter of Isabella, countess of Monteith. In 1296, Edward I granted him the lands and arms of John Drummond, who was at the time a prisoner in England. These are the arms on the seal.
He fought at the Battle of Falkirk, 1298, and was present at the siege of Caerlaverock, 1300. He died in 1314.
Edmund de Hastings appears in the following rolls in the database:
The Falkirk Roll, H35; the Caerlaverock Poem, K84; and The Galloway Roll, GA239.
In these rolls Edmund bears
Or a maunch gules a label azure

These were the traditional arms of the family, which Edmund bore as a younger son.
The arms of Drummond, also borne by Edmund, and used to seal the Barons' Letter, were
Barry wavy of six argent and azure