Roger de Huntingfield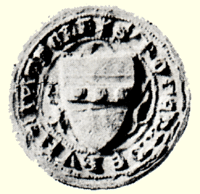 Roger served in the wars against the Scots, and probably in Flanders and Aquitaine.
Although this Roger does not appear in any of the rolls so far, he bore the arms of his grandfather, who appears in Glover's Roll, B131, and who bears
Or on a fess gules three plates

Roger de Huntingfield, his grandfather, who died in 1257, was one one the twenty five barons chosen to enforce the Magna Carta.
William de Huntingfield, his father, who died in 1290, and who was one of the rebel barons at Evesham, bore the same arms.