William Martin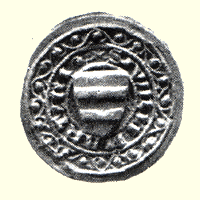 William succeeded to his grandfather's lands in 1282.
He served in Flanders in 1297. He took part in the campaigns against the Scots and fought at the Battle of Falkirk in 1298.
He died in 1324.
William appears in the The Stirling Roll, S77, where he bears
Argent two bars gules


William Martin, died 1324, bears the arms with a label in St George's Roll, E244.
Nicholas Martin, the grandfather of the first William above, died 1282, bears these arms in Glover's Roll, B202.