Ralph de Nevill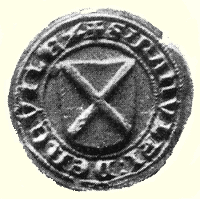 Ralph fought against the Scots, and died in 1331.
He does not appear in any of the rolls so far researched. He was however, a Neville of Raby, as was Robert, below.
Robert de Neville, died 1282, appears in Glover's Roll, B59; Walford's Roll, C135, & St George's Roll, E198, where he bears
Gules a saltire argent

John de Neville, died 1309, apperas in the Stirling Roll, ST43, where he bears
Argent a saltire gules

The seal does not, of course, help with the tinctures.