Aymer de Valence, 2nd Earl of Pembroke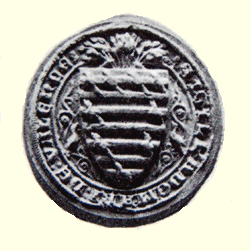 Aymer de Valence, son of William, who was half-brother to Henry III.
He fought at the Battle of Falkirk, 1298, and was present at the Siege of Caerlaverock, 1300; then, c ommander of the English forces at Berwick, 1303. He defeated Robert Bruce at Methven, 1306, when he captured Bruce's wife and daughter, and again at Loudun Hill, 1307.
He swore to oppose Gaveston, whom he captured, but was outraged when Warwick abducted and executed him in Aymer's absence.
On a trip to see the Pope, he was captured by a Burgundian, and later ransomed for twenty thousand pounds of silver.
He married first Beatrice, daughter of Raoul de Clermont, Constable of France, second, --- a daughter of the Comte de Bar, and third, Marie, daughter of Guy de Chastillon, Comte de Saint Pol. The three marriages were without issue, and upon his death, at Compiègne, the earldom became extinct.
Aymer appears in the following rolls in the database:
The Falkirk Roll, H101; The Caerlaverock Poem, K21; Glover's Roll, B3
In these rolls Aymer bears
Barry of ten argent and azure an orle of martlets gules