Hugh Poyntz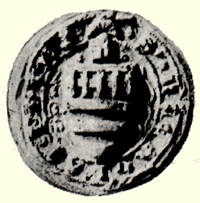 He took part in the campaigns against the Welsh, 1277, fought at Falkirk, 1298, and was present at the Siege of Caerlaverock, 1300. He died in 1308.
Hugh appears in The Falkirk Roll, H111, and The Caerlaverock Poem, K29,
where he bears
Barry of eight or and gules

Although Hugh bears the arms without a label in 1298, it appears in the seal of 1301. It is said to be that of his son, Nicholas. The arms were those of Brian FitzAlan, and their use was in dispute.
Nicholas Poyntz, his son, who died in 1311, appears in The Stirling Roll, ST33, where he bears
Barry of eight or and gules a label azure