Robert de Tony
Knight of the Swan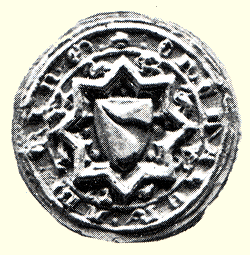 The shield is within a panel and surrounded by images of a talbot and a swan.
Robert's father, Ralph, died in 1294.
He served in the Scottish Wars, and was present at Stirling Bridge, 1297, Falkirk, 1298, and Caerlaverock, 1300.
In 1309 he left for Spain, to fight against the Moors, and died in the same year.
Robert appears in the following rolls:
The Falkirk Roll, H66; The Caerlaverock Roll, K68; The Galloway Roll, GA195 and The Stirling Roll, ST12,
where he bears
Argent a maunch gules
Rauf de Tony, who died in 1239, bears the same arms in Glover's Roll, B91.