John de Warenne
7th Earl of Surrey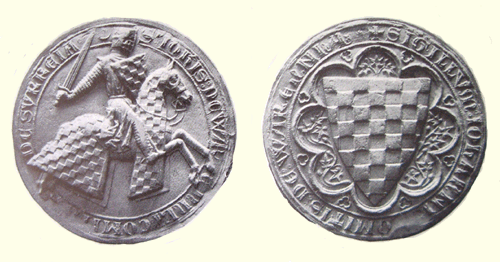 John de Warenne, born c1231, died September, 1304 at Kennington, was the son and heir of the 6th Earl, William de Warenne, and succeeded upon his father's death in 1240. He married Alice de Lusignan, half sister of Henry III. He was the uncle of Henry de Percy, who also sealed the Barons' Letter.
He and his family claimed the Earldom of Sussex but never held it.
Except for a brief period in 1262-63, he strongly supported his friend the young lord Edward, afterward Edward I, during the Barons' Wars. In 1264 he defended Rochester Castle against Simon de Montfort until relieved by Edward. They then repaired to Warenne's town of Lewes, where the royal army was defeated.
Warenne escaped to France. In 1265 he landed in Pembroke with Henry III's half brother William de Valence and took part in the campaign that ended at the Battle of Evesham, on 4 August 1265, with Montfort's death.
The successful claim of Warenne's son-in-law John de Balliol to the throne of Scotland gave Surrey a strong interest and a leading part in Scottish affairs. However, after the treaty between Scotland and France in 1295, Edward I invaded Scotland in 1296, and Warenne was the victor of the Battle of Dunbar. Edward I then appointed him keeper of the realm of Scotland, but in 1297 he was defeated by William Wallace at Stirling Bridge.
He fought in Edward's later campaigns in Scotland and took part in the victory at Falkirk in 1298. He appears in five early rolls in the database: Falkirk, H97; Caerlaverock, K17; Glover's, B7; Camden, D37; and St George's, E2.
In these rolls he bears
checky or and azure