Guy de Beauchamp, 2nd Earl of Warwick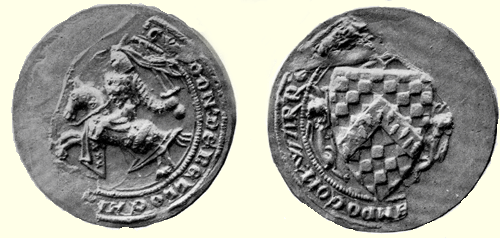 Guy de Beauchamp, named after the mythical ancestor of the family, Guy the Saxon,whose father, William, was the 1st Earl.
Guy married Alice, widow of Thomas de Laybourne, by whom he had a son, Thomas, the 3rd Earl.
He fought at the Battle of Falkirk, 1298, and was present at the siege of Caerlaverock, 1300.
Guy was present at the death of Edward I, and opposed Edward II and Gaveston, later being involved in the latter's capture and execution. He was also one of the Ordainers, who curbed the power of the king.
He died in 1315, possibly poisoned by friends of Gaveston.
Guy appears in the following rolls in the database:
The Falkirk Roll, H56; The Caerlaverock Poem, K24
In these rolls Guy bears
Gules crusilly and a fess or

These arms appear on the seal to the Baron's letter, whereas the counter seal shows the arms of Thomas, 3rd Earl of Warwick.
Thomas appears in the following rolls in the database:
Glover's Roll, B20; Walford's Roll, C144; St George's Roll, E6.
In these rolls, Thomas bears the arms of Newburgh.
Checky azure and or a chevron ermine